"MORNING STAR CHARTERS"
Florida Keys, Key Largo Sailing-Snorkeling-Kayaking-Sunsets
2 to 6 individual passengers or single groups of up to 6. Laid back relaxed fun atmosphere. Enjoy our captained sailing/ snorkeling or sunset sails, both bayside and oceanside. Let 30 years of experience on the reefs and waters around Key Largo set you free to discover. Enjoy the beauty of the Florida Keys.
We are the longest existing sail, snorkel charter in the Florida Keys. In an area where businesses come and go, Morning Star Charters has been successfully operating for the past 30 years!
Morning Star uses the best reefs for the day's weather conditions. We go the extra miles to the best reefs for your exclusive enjoyment.
Cleaner water, nicer reefs
Snorkel the BEST reefs & wrecks
Take advantage of Morning Star's expertise in the Florida Keys / Key Largo reef and wreck exploration. We like to use the better reefs, void of the crowds from the cattle boats, we go a few miles further, cleaner water, nicer reefs!
Snorkel the BEST reefs & wrecks
We offer the opportunity for you to enjoy the beautiful waters of Key Largo in a fun and relaxed atmosphere.
PLEASE READ THIS; IT'S IMPORTANT!
We want our customers to see the best, not the worst that Key Largo has to offer. Yes, we have seen the reports on some online bulletin boards about "skip Key Largo when it comes to snorkeling". These are written by people who opted for the typical cheap cattle boat trips and have been taken to shallow, abused, small patch reefs with murky water. We want you to know there are reefs off Key Largo that rival the best in the world! Morning Star will take you to Molasses Reef, Pickles Reef, and reefs "off the beaten path"that are teeming with sea life, beautiful corals, in crystal clear waters!
And when it comes to sailing, YES! We will sail as much as possible, it's a major part of what we do! .
In a greedy world where quantity has replaced quality we want you to know that old time values and pride in ownership still exist with Morning Star Charters
Click on the pictures to enlarge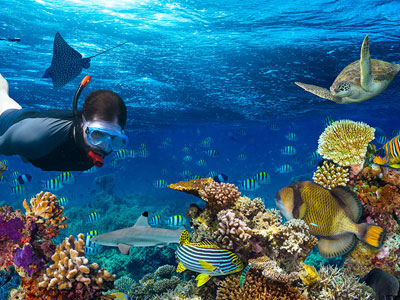 The Florida Keys